With Bonfire night fast approaching, and the family dog beginning to cower in the cupboard on a nightly basis, Firework season is definitely upon us. In the course of photographing weddings through the years, I've had plenty of opportunity to hone my own skills photographing Fireworks displays. I therefore thought I'd bring you my top tips for creating memorable images of this November's great displays.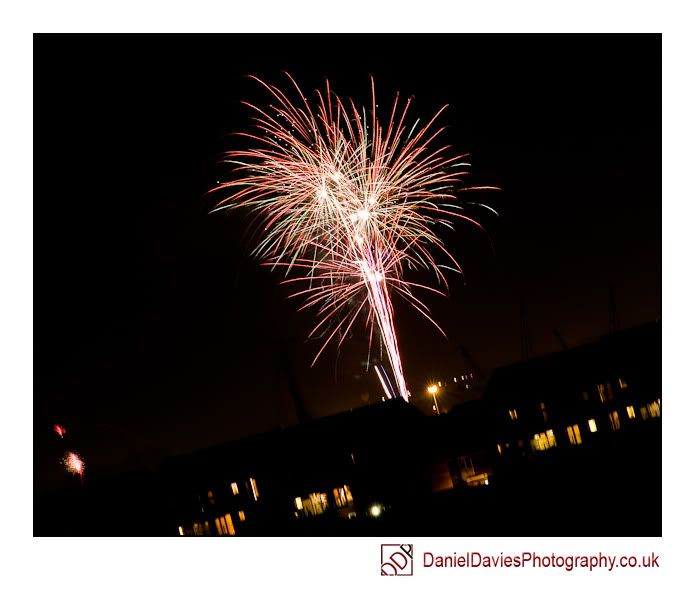 The first thing to say is that to successfully photograph fireworks you will almost certainly need a digital SLR camera, and enough knowledge to shoot in manual mode. Apologies go to those who find this post a little more technical than my usual offerings.
TOP TIP NUMBER 1: USE A TRIPOD.
To create striking photographs of light trails as fireworks streak through the night sky takes long exposures – usually of several seconds or more. However good your handholding technique, without a tripod you will introduce shake into your photographs, so make sure to get a good sturdy base for your camera – almost certainly a tripod. You'll also need some kind of remote release so that you can open the shutter without introducing some shake as your finger depresses the shutter release button.
Many images can also be ruined by light "leaking" onto the sensor through the viewfinder. Most camera straps contain a cap that can be fixed over the viewfinder to prevent this, or do as I do and slip a lens end cap over the rubber viewfinder guard. The rubber keeps the end cap in place and I find it a little less likely to fall than the one on the camera strap.
TOP TIP NUMBER 2: SET YOUR ISO CORRECTLY.
Most people's intuition suggests that to capture the low level of light from fireworks on a pitch dark night would require a high ISO setting, perhaps in the range of 1600 to 3200. This is not the case. The light from fireworks is very bright, but very localised. To maximise the quality of your images, set the camera's ISO to a low number (maybe 50, if your camera has it or 100 ISO). This will give you the longest safe exposures, the lowest amount of noise, and the maximum recovery of detail around the bright highlights of the firework.

TOP TIP NUMBER 3: FIND THE RIGHT LOCATION.
Well before the display is scheduled to start you need to have scouted a great location. You'll probably want to go away from the main vantage point for several reasons.
1. It may be too close to the display to allow you to capture the entire scene
2. It'll probably be too busy and your rock solid tripod will get in the way and probably be knocked at the critical moment
3. You might want to also capture some foreground images (maybe a bonfire, or the stately home or whatever hosting the display). This gives a sense of scale and point of interest instead of the photographs becoming almost abstract images, solely of streaks of light.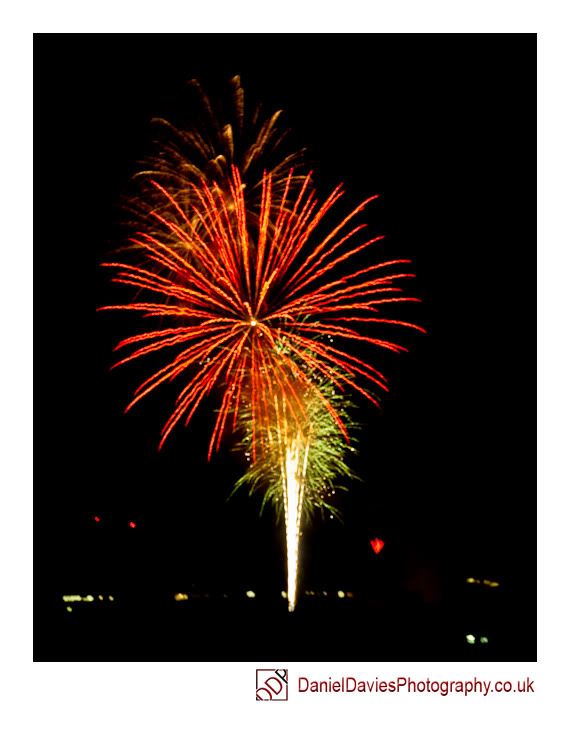 TOP TIP NUMBER 4: SET YOUR FOCUS MANUALLY
Usually setting to infinity will be great. If you are particularly close, then find a lit object about the same distance away from you as the display is, focus once on that and then immediately knock your camera into Manual Focus mode.
TOP TIP NUMBER 5: BRING A TORCH & SOME FINGERLESS GLOVES!
Cameras are fiddly beasts, and it can be difficult in the best of conditions to find the right button to change the right setting. Photographing fireworks almost always means that you'll be out in the cold and dark. Fingerless gloves keep your hands a little warmer without compromising precision and a torch can be invaluable to shine on your camera when you're searching for a particular setting to change.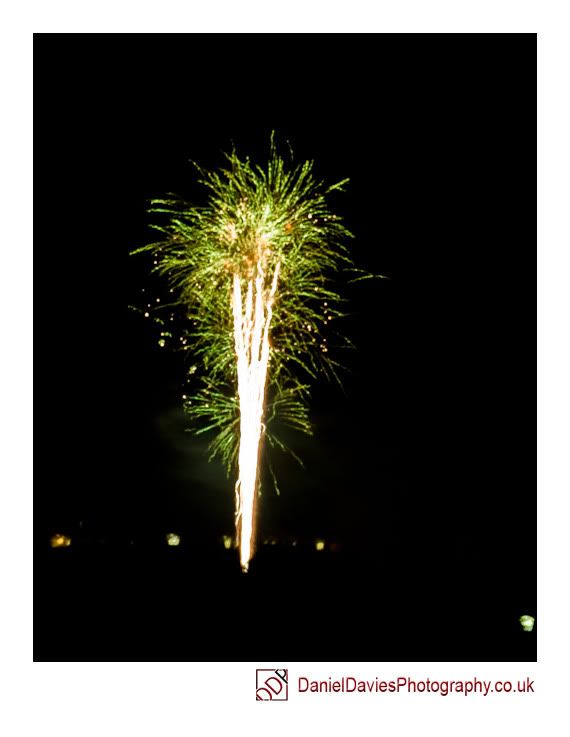 TOP TIP NUMBER 6: USE SMALL APERTURES AND BRACKET EXPOSURES

As with almost any type of photography, choosing to shoot in RAW mode will give you more flexibility to correct exposures after the event, but to minimise the amount of work you have to do in post processing you should be prepared to set the camera in manual mode, and bracket your exposures for best results. A good starting point is somewhere in the region of 8-20 seconds at f/8 ISO 100.
You will want the sky to be black and the fireworks bright but not "blown out". The LCD on the back of the camera can only give you an approximation of this, but the histogram that can also be displayed can & should be used to give you the best exposure:
Good Exposure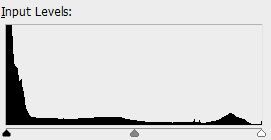 This histogram image shows a large chunk of Black, meaning that the sky is nicely inky black, and the highlights are close to the right hand edge, but not so far right that they are "blown out" and thus recorded as pure white on the image.
Bad Exposure #1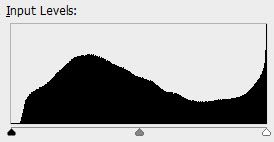 The gap on the left hand side of the histogram shows that the sky isn't recorded as black. This will give you problems later when trying to combine images.
Bad Exposure #2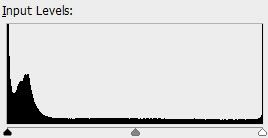 The right hand side of the histogram shows that the highlights are blown out – the detail is being lost in the lights of the fireworks.
For more information on how to interpret histograms
see this excellent resource here
.
TOP TIP NUMBER 7: COMBINE EXPOSURES FOR MORE DRAMATIC IMPACT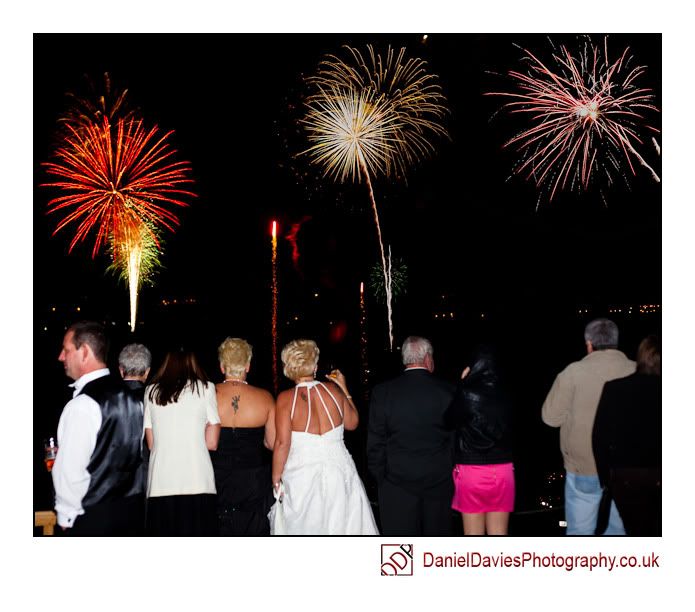 There are two easy ways to combine exposures – you can do this either "in camera" – at the time of shooting, or you can use Photoshop or some other editing program to do it after the event.
To combine exposures in camera, you'll need to set the camera to "bulb" mode. Most remote releases will support this in that the first press will open the shutter and the second close it. A piece of black card can be used to cover the end of the lens up between 'bursts' of fireworks. If you remove it as the fireworks streak upwards and replace it when it's more quiet you can combine several fireworks into one single shot. Just be careful not to knock the lens with the card and spoil your hard work.
Alternatively you can use an editing program to combine your exposures. Again make very sure that the black sky is actually black (use the "Levels" command in Photoshop or the "Blacks" slider in Lightroom to correct this if necessary). It should then be a simple job to select an interesting area of one image and paste it onto another. The "Screen" blend mode is your friend here.
TOP TIP NUMBER 8: HAVE FUN!
Photographing fireworks is great fun and not something that can be done all year around. It's also very different from everyday photography, so give it a whirl and remember with digital it's not costing you anything to try and fail. Follow my tips above and you'll be on the road to success.
I'd love to see any pictures that you do manage to create following these tips. Please feel free to use the comments feature below to point me to your images!
Dan